During each week of Winter Quarter, the Program in Creative Writing will circulate prompts inspired by Giovanni Boccaccio's The Decameron, the famous collection of 100 tales told by a group of young Florentines to pass the time as they shelter in place outside the city which is being ravaged by the plague. Unlike the deserted villa sheltering ten Florentines in the original text, the home for our collective storytelling quarantine will be virtual and the creative responses will be submitted online.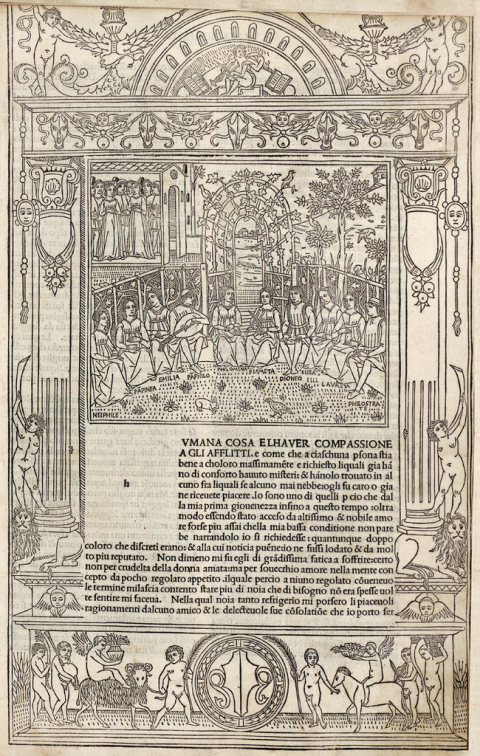 The responses can be in any genre (poetry, fiction, nonfiction, dramatic writing, etc.) and engage multiple mediums (text, video, images, and/or audio). Students may submit a response every week or participate in the project only occasionally. We welcome individual contributions and collaborative submissions (and we can facilitate this collaboration upon request). We encourage stories that stray far from the material of the frame/prompts as well as any that engage with the original Decameron or the tales, myths, songs, and images that inspired Boccaccio as he composed it.
We hope that the experience of telling each other stories will bring us closer together in new and surprising ways during this time of physical separation. The full story collection will be tied together with a completed frame narrative and presented online at the Decameron Redux website. Please visit the site here.
Rachel Ann Girty, Research and Writing Advisor in the Program in Creative Writing, will lead the project in collaboration with Creative Writing faculty and staff. If you have questions you can reach her at: ragirty@uchicago.edu.
*This Winterfest event is Maroon Cup point eligible.*  10 points will be awarded for up to 3 submissions per house. While we encourage as many of your house members as possible to become involved with Winterfest, your house will be limited to earning points for a maximum of three submissions for this activity. To be eligible for Maroon Cup points, all individuals/teams must include their house's name within their entry.  If participating as a team, all team members must be eligible house members to earn Maroon Cup points.