As construction continues on the University of Chicago's John W. Boyer Center in Paris, slated to open in autumn 2024, preparations to get its operations up and running on day one are well underway. 
To wit, Robert Morrissey, the original Center in Paris' inaugural director, is knee-deep in his new role as executive director of the International Institute of Research in Paris (IIRP).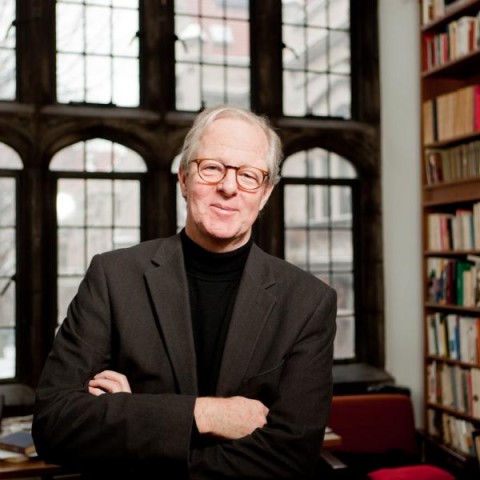 The IIRP will open as a department housed within the new Center, offering innovative possibilities for research, and provide a space for collaboration, exchange and discussion between UChicago scholars and their peers around the world.
Over the years, Morrissey has watched the first Paris Center that was dedicated in 2003 grow into a model for University-wide global engagement – the Centers that the University subsequently opened in Beijing, Delhi, and Hong Kong were strongly influenced by its impact and success.
"[When planning for the first Center], we were building on a robust study abroad program that [former dean of the College] John Boyer did so much to foster," said Morrissey, currently the Benjamin Franklin Professor of French Literature, and the Committee on Interdisciplinary Studies in the Humanities. "It quickly became a place where faculty from a diverse range of disciplines could organize conferences and workshops, and where students could challenge themselves academically."
This conversation has been edited for brevity and clarity. 
How will the new Center in Paris, and specifically the IIRP, provide opportunities for undergraduate students studying abroad?
This is a question perennially posed by students, and I think the best way of answering it is by saying that research is at the heart of the University. The research and teaching missions of the University are so intertwined in a very organic and unique way that helping research helps undergraduate teaching by attracting better minds and top scholars who want to further their pursuits.
As for the Center, we are training undergraduates to be citizens of the world. They're seeing and experiencing things in Europe that they probably wouldn't have the ability to back home. More specifically, there will be a great deal of undergraduate involvement in research here, partially because the programs are smaller, and there are fewer graduate students. As undergraduates become interested in research, the IIRP will give them opportunities to do more of it.
Research can be a unique experience for an undergraduate to be involved in on various levels. There are the classic laboratories everyone thinks of, but you can also imagine something like an undergraduate helping to put together a research agenda, working as an assistant and generally doing things that give them a clearer idea of what research is about. 
How did the IIRP come to be?
As faculty research in Paris has kept growing more and more quickly, it was clear that the facility that we had wouldn't allow for the kind of breadth of research and depth of research that the faculty has expressly called for as an essential element of the mission of the Center in Paris.
That's where the idea of the IIRP began, and it saw a lot of faculty support. On some level, this enterprise reflects the relationship between the College and University in general, in that teaching and research are in a powerful symbiotic relationship.
The footprint of this institution doesn't just reach Europe, but it also extends to the Middle East and Africa. It will allow scholars to bring people in from around the world. Paris's central location and its broad range of research facilities offers new possibilities for bringing our scholars and researchers together in face-to-face meetings with scholars and researchers from this whole geographical area in different ways – from conferences to disciplinary and interdisciplinary seminars and major, public-facing events. Many of our European colleagues have already expressed their sense of the importance of this new endeavor.