University of Chicago alumni and parents of UChicago students have contributed $27 million to recognize the leadership of longtime Dean of the College John W. Boyer—a gift that will rename the University's new Center in Paris and establish a new professorship in his honor.
Boyer, AM'69, PhD'75, the Martin A. Ryerson Distinguished Service Professor of History, transformed the College during his unprecedented 31-year tenure as dean and was instrumental in conceptualizing the initial Center in Paris.
The University of Chicago John W. Boyer Center in Paris will serve as a hub for the University's teaching and research activities in Europe. First established in 2003, the original Paris Center solidified the University of Chicago's presence as the regional hub for research and teaching in Europe. To meet demand for programming, a new Center in Paris, designed by renowned architect Jeanne Gang, is scheduled to open in 2024.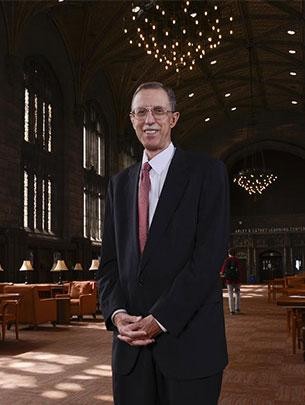 The new building will nearly triple the current Center's physical capacity, enabling 100 more undergraduates to study abroad each year. It will also serve as home for the University's new International Institute for Research in Paris, enhancing facilities for faculty, graduate students, and international scholars from Europe, Africa, and the Middle East while also providing greater opportunities for public participation in programming at the center.
"Enhancing the physical capacity of the Center in Paris presents a great opportunity to deepen and enrich the University's scholarly connections across France, Europe, and beyond," said President Paul Alivisatos. "Throughout his tenure, Dean Boyer championed the expansion of the University's global reach. As a tribute to the impact of his endeavors, it is only fitting that this center will now bear his name."
A $10 million lead gift was given by the Shelby Cullom Davis Charitable Fund, on behalf of the Davis Family and in recognition of Boyer's extraordinary tenure as dean. Members of the College Advisory Council and the Dean's Parent and Family Council—together with University alumni, parents and trustees—contributed an additional $11.5 million to name the new Center in Paris.