Even a pandemic cannot stop one of UChicago's longest held student traditions from happening. From 6:30 a.m. to 7:30 a.m. on Monday, Jan. 25 thru Friday, Jan. 29, Kuvia takes on a new virtual form, trading a warm coat and snow boots for fuzzy socks and pajamas as students attend from the comfort of their residences. 
The name for UChicago's Kuvia comes from the Inuit word Kuviasungnerk meaning "the pursuit of happiness." Kuvia's second name, Kangeiko, is the Japanese word for a form of martial arts practiced in early winter mornings by Samurai. As the two words thus imply, Kuvia is a celebration of Winter Quarter by students who show their spirit and enthusiasm through group calisthenics. This year, all activities will take place via Zoom. At the end of the week, students who arrived on-time for all five days will be rewarded with the highly coveted Kuvia t-shirt.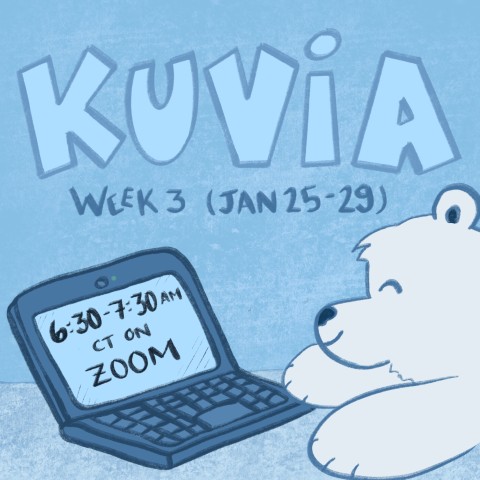 The Council on University Programming's (COUP) President Caroline Kim emphasized COUP's excitement to put a new spin on Kuvia this year and to keep the tradition going:
"It's a really big community event that makes the winter seem not as daunting. The sense of camaraderie, the fact that you're moving your body really early in the morning and the conquest of waking up that early as a College student in the winter; all of those things come together and make it an event that people are obsessed with [attending]," said Kim, a fourth-year. 
This year, COUP invited clubs across a wide variety of interests to host workshops for attendees. After completing collective sun salutations, students will enter the break-out room of their choice with cameras on, according to the following schedule:
Monday: Crew, Ki-Aikido Club (Genki Kai), Drinkers with a Writing Problem, Raas
Tuesday: Off-Off Campus, Women's Ultimate Frisbee, Karate Shotokan, UC Dancers
Wednesday: Swing Dance, Karate Shotokan, Maya, Women's Rugby
Thursday: Zumba, Ballet, Le Vorris & Vox Circus, Wushu