Academic freedom is central to the mission of a liberal arts education, and more specifically, the mission of the College. 
UChicago faculty exercise their academic freedom by following their curiosities through teaching and research. But what sometimes gets lost in this rigorous pursuit of knowledge, according to Prof. Christopher Wild, is how academic freedom pertains to students.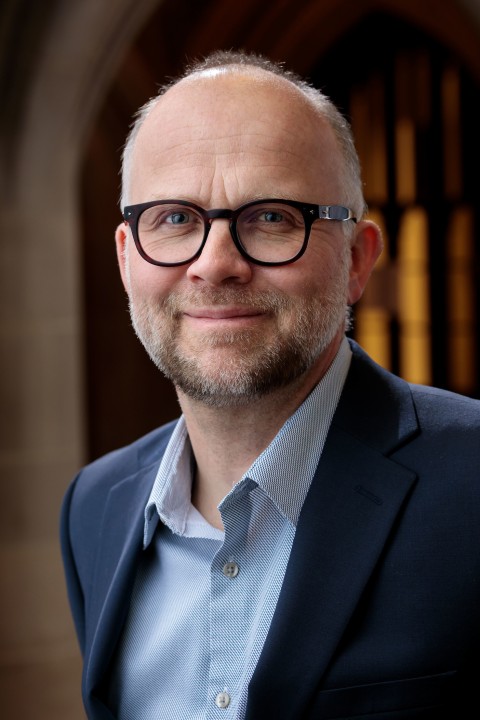 In his upcoming Aims of Education address, Wild will pose this question to the College's Class of 2027, and encourage them to answer it by taking ownership of their individual intellectual journeys. 
"Taking control of one's own education requires responsibility and courage," Wild said. "The most important thing is that students get an education that equips them with intellectual virtues and habits of mind to navigate an increasingly complex and diverse world."
This year's address, scheduled for 6:30 p.m. on Sept. 21 in Rockefeller Memorial Chapel, will be webcast on Facebook Live, YouTube and the UChicago News website.
A professor in the Germanic Studies department, as well as the Committee on Theater and Performance Studies, Wild also has a faculty appointment in the Divinity School. 
He additionally serves as the faculty director of the Parrhesia Program for Public Discourse, which offers an innovative undergraduate curriculum and programming relating to freedom of expression and the theory and practice of discourse. 
When he was asked to deliver the Aims of Education address, Wild said he first thought of the purpose of this time-honored College tradition, which has been in place since 1961. 
The address is one of many mechanisms that shape the College community, Wild said. Each year, it provides incoming students and the speaker with an opportunity to come together before the beginning of a rigorous academic year, in which spare moments to pause and reflect can be hard to come by.