Dayo Adeoye remembers seeing the barbed wire.
As an eighth-grader in Marysville, Ohio, she attended class in the shadow of mass incarceration. Down the street from her middle school is the Ohio Reformatory for Women, a state prison built on 260 acres of land. When it opened in 1916, it held 34 women. It now incarcerates more than 2,000.
"The idea of prison was always looming," said Adeoye, now a second-year College student at the University of Chicago.
That was one reason why she was eager to enroll in "Narrating Social Change," a course taught this spring by UChicago scholars Cathy Cohen and Alice Kim. For Adeoye, the criminal justice system had always felt close, but the aspiring attorney wanted to see it for herself—to learn from those who knew of its conditions firsthand.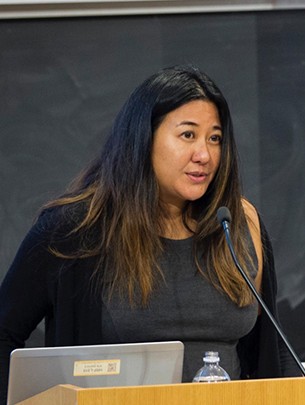 The idea for the course first took root in 2018, when Kim joined UChicago's Pozen Family Center for Human Rights. As the director of human rights practice, she launched a lab focused on engaging students and community members in solutions to the crisis of mass incarceration. Her vision included a mixed-enrollment course, one in which College undergrads and incarcerated students would learn alongside one another at Stateville Correctional Center in Crest Hill, Illinois.
Both she and Cohen, the David and Mary Winton Green Distinguished Service Professor of Political Science, had already taught classes at Stateville with the Prison + Neighborhood Arts Project (PNAP)—which made them a natural fit to co-teach this first-of-its-kind course.
They had originally designed the course in partnership with PNAP's University Without Walls (UWW) bachelor's degree program at Stateville. Eight UChicago students and eight UWW students were set to take part in a quarter of learning, dialogue and knowledge-building with weekly classes at the prison. When the coronavirus pandemic made those visits impossible, they found an alternative: opening their virtual classroom to two formerly incarcerated students.
Exploring narratives of struggle against oppression, the syllabus focuses on a carceral system that disproportionately impacts black Americans.
"There's been a deep engagement with the assigned texts and a continuing commitment to center the 'inside' students who are missing at this moment from our class," Cohen said. "For me, it's been one of the most delightful teaching experiences I've had."