Room Types:

Singles and Doubles

Dining Hall:

Bartlett Dining Commons

Built:

1893 & 1902
Snell
Architect: Henry Ives Cobb
Built: 1893
Hitchcock
Architect: Dwight Heald Perkins
Built: 1902
Located on the main quad, Snell-Hitchcock was built in the neo-Gothic style. Each House has four floors and no elevator. The Hall houses two vibrant communities, each with their own complement of Resident Heads and Resident Assistants, charged with community building. The Hall has one Resident Dean couple, who act as intellectual stewards for the residents.
Assistant Director of Residence Life: Rich Diaz
Assistant Director of Operations: Alora Schoenhofen
Standard Room Furniture:
XL Twin Bed
Dresser
Upholstered Side Chair
Wardrobe or Closet
Desk and Chair
Resident Deans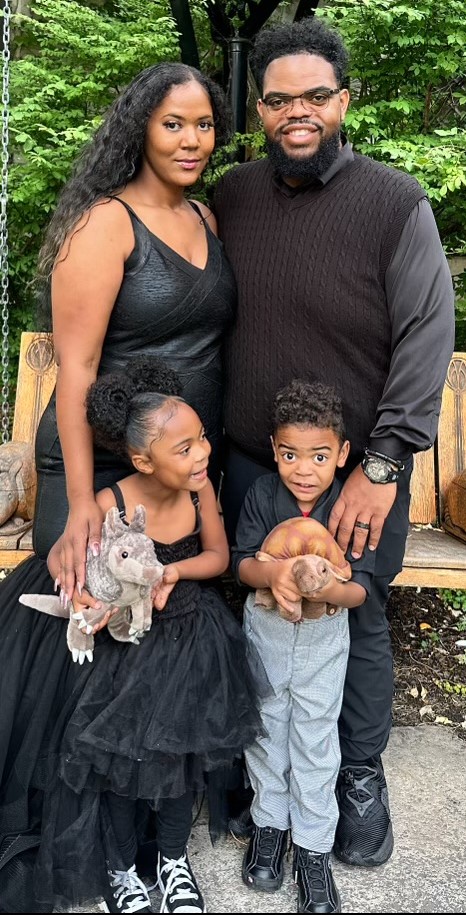 Dr. Abdullah Pratt and Antoinette Gibson serve as Resident Deans for Snell-Hitchcock Hall. Abdullah, Antoinette, and their lovely children Asmara (5) and Aziz (3) are native residents of Chicago's south side. Having lived in the same community as children, Antoinette and Abdullah prioritize "family" at the core of their lives and passions.
Dr. Pratt is an Assistant Professor of Emergency Medicine at The University of Chicago Medical and Trauma Center. Having completed his training at the Pritzker School of Medicine, he was recently announced as Pritzker's inaugural Faculty Director of Community Engagement. His recent accomplishments range from Faculty of the Year to the National Gold Humanism award for patient care and was most recently awarded UChicago's MBSAA Distinguished Alumni Award for Early Achievement. Known as "Dee"; Dr. Pratt's goal has always been to have a career advocating for under-served communities and addressing systemic healthcare disparities. As an emergency medicine physician, he continues to vigorously work to improve health literacy and emergency preparedness through teaching south side residents how to properly respond to cardiac arrests, gunshot wounds, and mental health crisis. This has culminated in his founding of The Medical Careers Exposure and Emergency Preparedness (MedCEEP) Initiative and the Trauma Recovery and Prevention of Violence Program (TRAP Violence). 
Antoinette is a full-time mother, home school instructor and leader within the Pratt home. Antoinette spends most of her time creating a diverse set of experiences for her children, her five teen siblings, and the hundreds of adolescent youths in Dr. Pratt's community initiatives. She is an avid gardener, tending to home gardens and community gardens in Woodlawn. Antoinette also has a deep passion for promoting health and wellness through baking and culinary endeavors.
As Resident Deans, Antoinette, and Abdullah hope to continue to serve as a source of wellness, self-care, and empowerment through adversity, just as they have with their family, siblings, and youth of Chicago's south side.