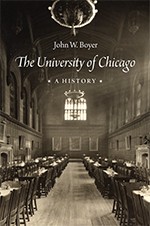 The University of Chicago: A History
John W. Boyer
In The University of Chicago: A History, Senior Advisor to the President and the Martin A. Ryerson Distinguished Service Professor, as well as former Dean of the College John W. Boyer presents the culmination of his research on the University in a comprehensive history, reaching from its little-known, false start in the mid nineteenth century to the present day.  Published to coincide with the 125th anniversary of the University, this reference holds fresh insights about that history for all members of the University community and anyone interested in the history of American higher education.
Occasional Papers on Higher Education
Every summer since 1996, John W. Boyer has written a paper on a different aspect of University history—from its early financial struggles, to the pitched battles over curricula, to the campus unrest of the 1960s. In 1999 the College began publishing his essays as part of its Occasional Papers on Higher Education series.
The missing numbers in our Occasional Papers series are Aims of Education Addresses. We will add them to this site soon.